The Yale lock company has been a recognized name in the locksmith industry since its beginning. Still one of the most trusted locksmiths, it offers many types of door locks and keys to keep your home and business safe. It continues to innovate with new products for both residential and commercial purposes.
You can find Yale in plenty of different places worldwide, but it is still an American-made lock company that believes in keeping America secure. They are still a well-respected name in the locksmith industry and offer some great products for all needs!
With several other high-quality brands under ASSA ABLOY Door Security Solutions, Yale continues to be a leader in this industry by helping provide access and door security solutions for people across the world.
Yale products for your home
Products for Home Protection and Peace of Mind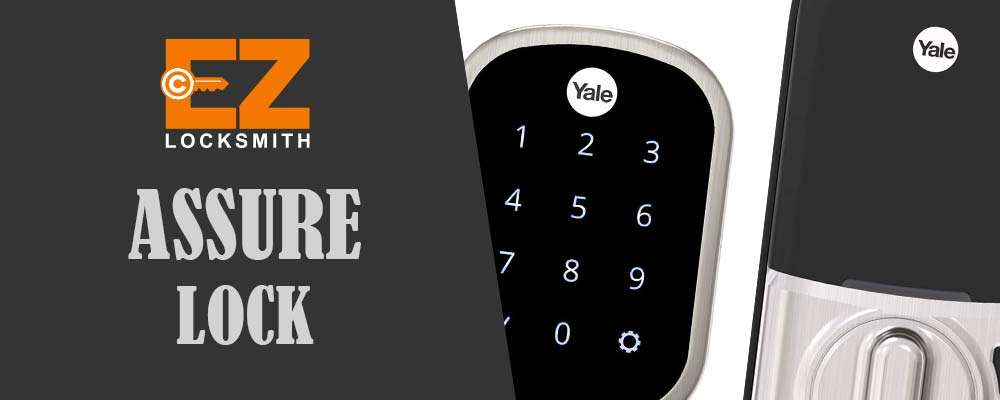 Assure Lock
Unlock and lock your home securely with touchscreen, fingerprint, or push button deadbolts.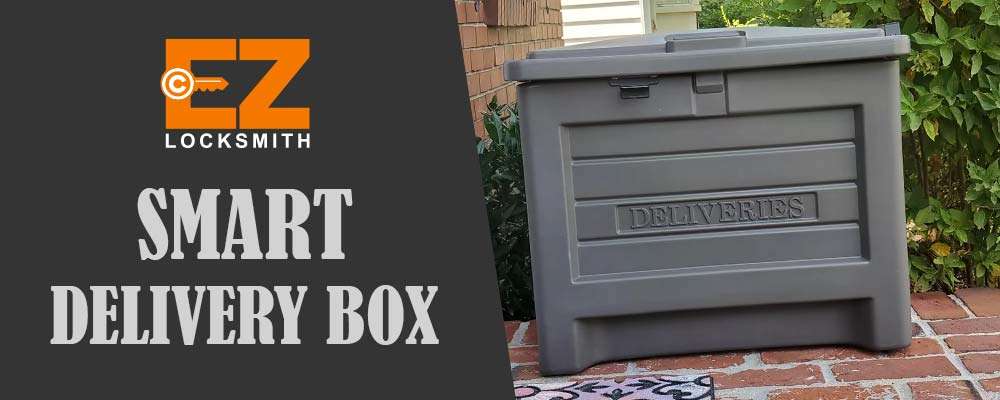 Yale Smart Delivery Box
This smart delivery box will both protect your deliveries from the weather and porch pirates.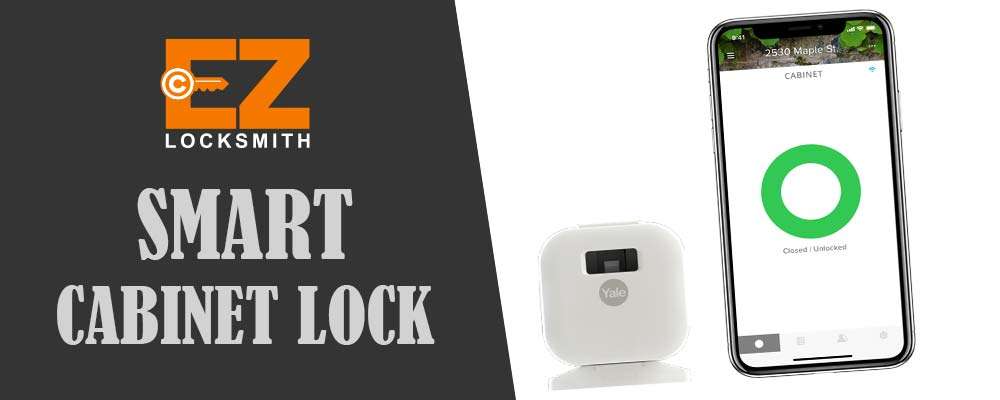 Yale Smart Cabinet Lock
To prevent unintentional poisoning or intoxication, keep cleaning supplies and medicines in a locked cabinet.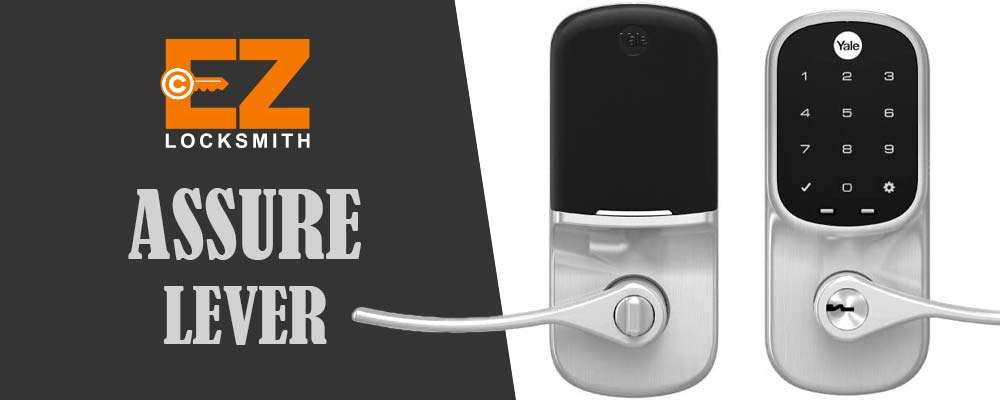 Yale Assure Lever
A new Assure lock designed for single-hole doors.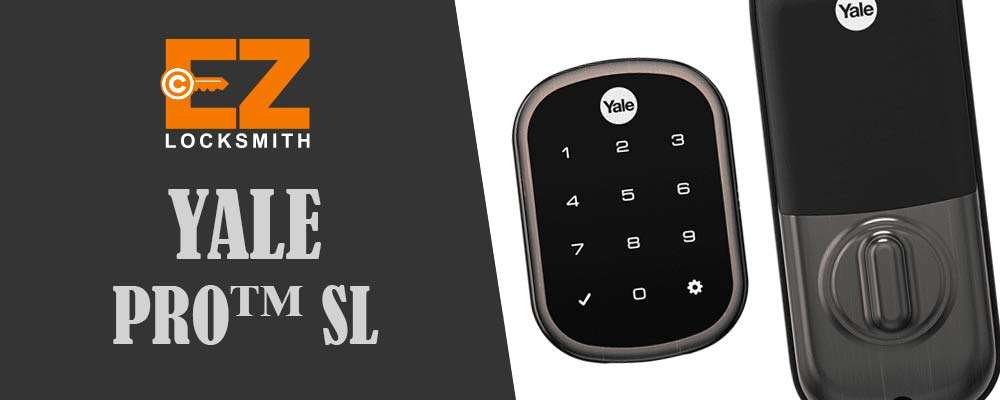 Yale Pro™ SL
Built for the Pros. Designed for the Home.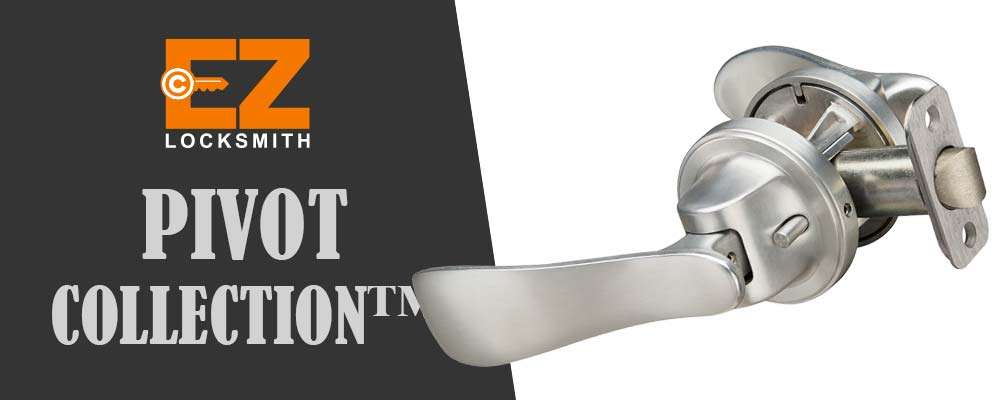 Pivot Collection™
Navis Paddle makes opening doors easier.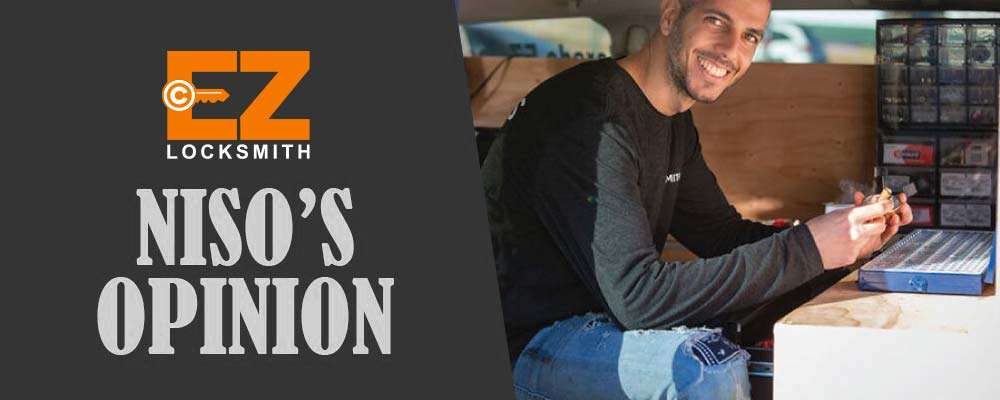 Niso's point of view:
"No doubt. Yale provides products for all aspects of residential life. The Yale Assure lock to the Yale Smart Cabinet Lock provides you with so many different options that it can be hard for you to decide. The Yale Smart Delivery Box will protect your deliveries and give them a safe place to be, while the Yale Pro SL lock will provide peace of mind for your family or staff members."
Yale commercial grade locks
Yale offers a huge variety of commercial products. Access control, cylindrical locks, mortise locks, reflections, exit device, auxiliary locks, door closers, keys & parts.
With models like:
nexTouch

4700LN Series Lever Locks

4300LN Series Tubular Lever Locks

6400LN Series Monolock

5400CK Series Knob Locks

And more
NexTouch Commercial Keypad Door Lock by Yale
1 Lock Platform, 3 Technologies
NexTouch Commercial Keypad Door lock is a new type of commercial lock from Yale. This lockset is easy to use and install. The nexTouch Locks allow you to manage access with up to 500 unique PIN codes. Yale locks – Sophisticated elegancy
NexTouch Commercial Keypad Door Lock by Yale has one-touch locking, mechanical key override, programmable PIN code. The lockset is ANSI/BHMA Certified Grade 1. NexTouch features an electronic touchscreen that provides easy programming and access control for tenants.
Cylindrical VS. Sectional Mortise
Cylindrical is a type of cylindrical lock commonly found in restrooms, offices, storage closets, and more. Sectional Mortise locks come in many styles that can match the decor of foyers or hallways where they are installed. They also include security features.
The Yale nexTouch Exit Trim is an ideal upgrade solution for retrofit projects that want key-free access management. It is compatible with many push pad exit devices and includes a number of convenient features like privacy mode, power backup, and more.
Exit Devices (AKA Panic Bars)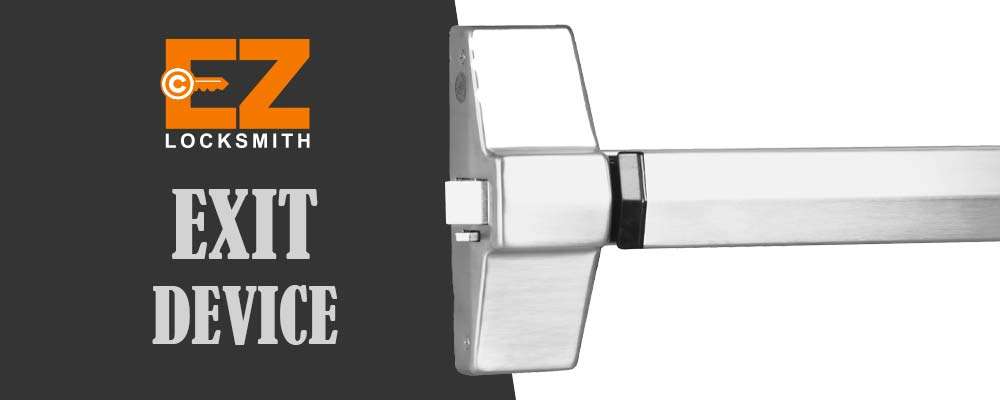 Yale's exit devices are suitable for any door, and they have a range of looks, functions, and finishes. They also pass the rigors of daily use and abuse.
You can find these panic bars installed in every store in Denver, Colorado. EZ Locksmith is the best place to purchase these panic bars and get them installed because of their unbeatable quality.
7000 Series Architectural Exit Devices

6000 Series Commercial Exit Devices

2100 Series Economy Exit Devices

1800 Series Flatbar Exit Devices

1500 Series Traditional Exit Devices
1500 Series Exit Device
Every 1500 series exit device we make is constructed of sturdy steel with consistent quality, functionality, and appearance.
Features
Rim, mortise, and concealed horizontal rod designs are available in hex-key dogging.

Lever sticks, knobs, handles and pulls come in different shapes and sizes to balance the hardware throughout a building.

You can switch some standard devices like levers into place with 2-point hex-key dogging for a quiet push-pull door.

All ten models have a UL/cUL Listed option for use on fire doors rated up to and including 3-hours unless otherwise noted.

Ten models come with interchangeable core, Yale 6 and 7-pin cylinders, patented and security rim cylinders either keyed alike or as needed.
Niso, the Owner of Colorado EZ Locksmith from Denver: These locks are made with sturdy steel for consistent quality, functionality, and appearance. The 1500 series exit device comes in ten different models. Need help? Call me now!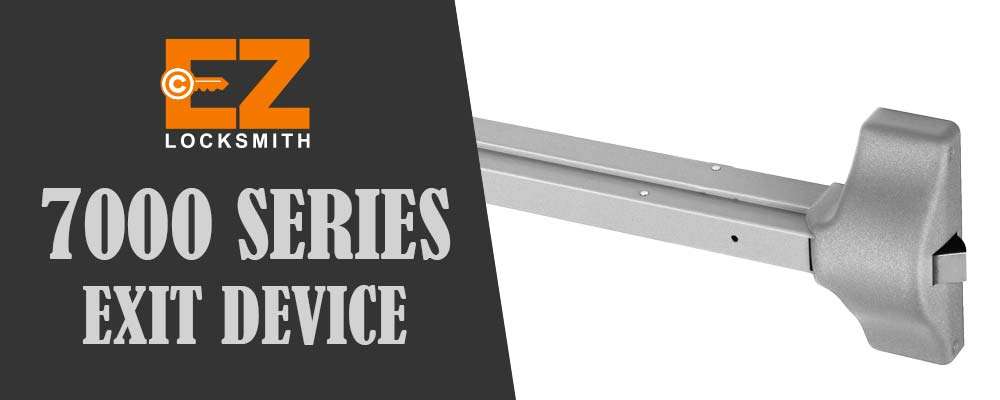 7000 Series Exit Device
The Yale 7000 Series Exit Devices are the top of the market quality exit device that gives people peace of mind. I don't think the full range of mechanical and electromechanical functions and accessories would be too much for a small company like yours to deal with, but sometimes it might be more than what you need.
The simple, clean lines of that lock and variety of available finishes of Yale, 7000 Series suit just about any commercial building.
Features
Modern, Contemporary Style

Various finishes are available to match your decor.

Rim configurations are available. SquareBolt®, vertical surface rod, and concealed vertical rod configurations are also available.

The product has been certified as meeting the ANSI/BHMA A156.3, Grade 1 standard.

UL/cUL listed as fire safety devices, doors, and walls with a 3-hours or less rating

A five-year limited warranty covers the mechanical devices. Electrical components and options have a two-year limited warranty.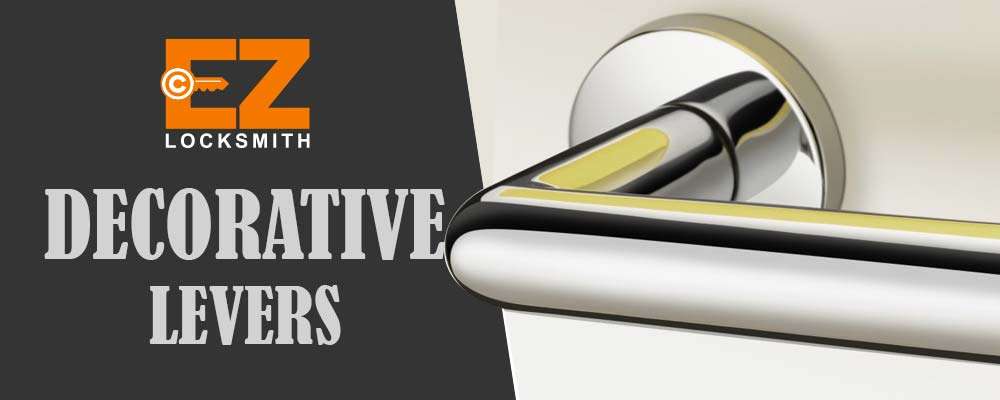 Yale decorative levers
Are you looking for the finest lever quality along with beautiful decorative lever handles? Then Yale decorative levers are the right choice for you. This product is available in numerous finishes, and it is easy to use.
Thames Series

Spree Series

Hudson Series

Seine Series

Victoria Series

Danube Series

Niagara Series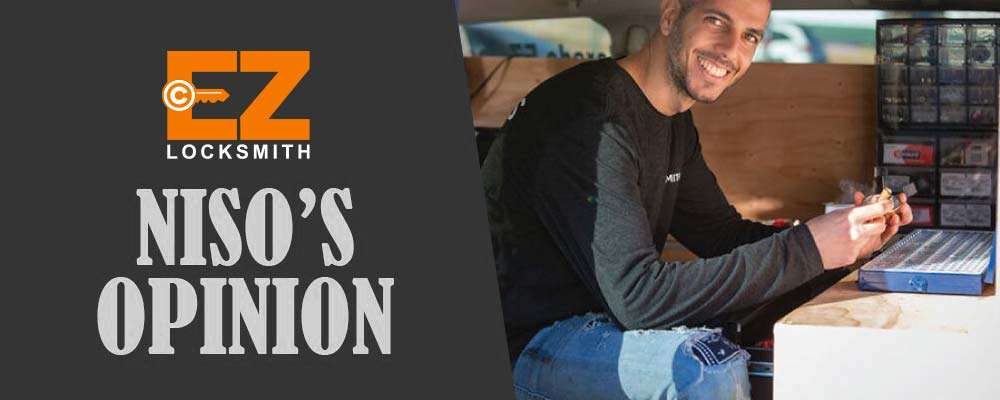 Niso's opinion about Yale's Decorative Lever Series
"Yale's stunning profile options allow you to fill your entire space with any mood by selecting from a variety of levers and finishes.
Yale's Reflections Collection is an expansive line of entry hardware, allowing you to flow design sensibility across the entire facility and unify all openings. The line features 30 available levers styles in 15 finishes."
Clients Testimonials
Yale deadbolt repair – Noah S. – Denver, CO
"EZ Locksmith guy came by to fix my Yale deadbolt. I was all excited and looking forward to seeing what he's going to do to fix it. He brought his tools with him. He got out a shiny black device. He started to rub it against the deadbolt until the lock got out. After another 15 min, Niso repaired my deadbolt. Excellent Service. Thank you!"
Yale exit device installation – Simon G. – Denver, CO
"My old Yale exit device came out of its sockets, and I had to get it replaced as soon as possible. I always wanted to have a Yale lock in my business front door, so that was the perfect excuse! We called Colorado EZ Locksmith from Denver, CO. They were really helpful. They fixed the issue very quickly, and they always ensured that we were satisfied with the service. I like how they take care of their customers."
Yale smart locks – Luna C. – Denver, CO
"We were looking for a very reliable company to deal with the installation of a Yale smart lock. Niso came to our rescue. He arrived on time, did the job swiftly, and was courteous and professional. I would recommend him any day!"
Conclusions by Colorado EZ Locksmith
"Yale has always been a leader in the field of locks. Yale manufactured and sold their first cylinder lock in 1846, which is no small milestone, especially for a company only about 160 years old. It is this longevity that makes Yale both one of the world's oldest existing lock manufacturers, but also one of the most respected.
Colorado EZ Locksmith thinks that Yale locks are the finest ones. Many Denver residents and business owners agree with this opinion.
For the past 15 years that Colorado EZ Locksmith has been in business, we have tried to provide only the most exceptional devices for our clients. Yale locks are one of those outstanding products. "