In 1946, two years after his service with the US military ended, Severin Fayerman founded Baldwin. In its first year of operation, he brought in 100,000 pounds of brass stock. He started manufacturing by heating the brass billet at 1300 degrees before forging them into knobs, levers, and handlesets.
Each piece of premium Baldwin hardware is hand-crafted by an average of 30 people. They produce 85mm center-to-center European mortise trims with any Estate lever or knob and over 30 contemporary levers, knobs, and handlesets. 6 globally inspired design cues were used for the Baldwin's Couture Collection.
No competitors have attained Baldwin's superior level of Lifetime PVD finishing.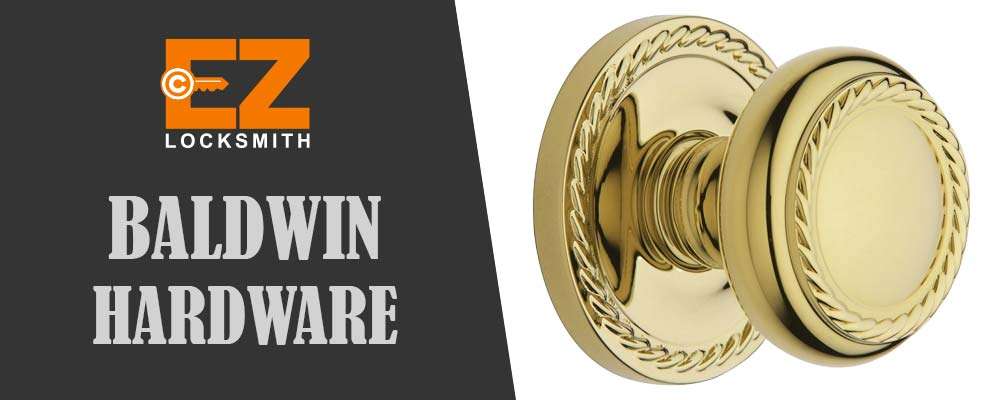 Baldwin's Door hardware products
Baldwin's amazing collection of door hardware includes Entrance levers, touchscreen entry, smart locks & keyed entry, doorknobs and deadbolts, roses (metal covers), sliding door locks, turn pieces, rim & screen doors.
Baldwin also offers a complete line of automatic door operators, garage door hardware, commercial & institutional locks, and electronic access control.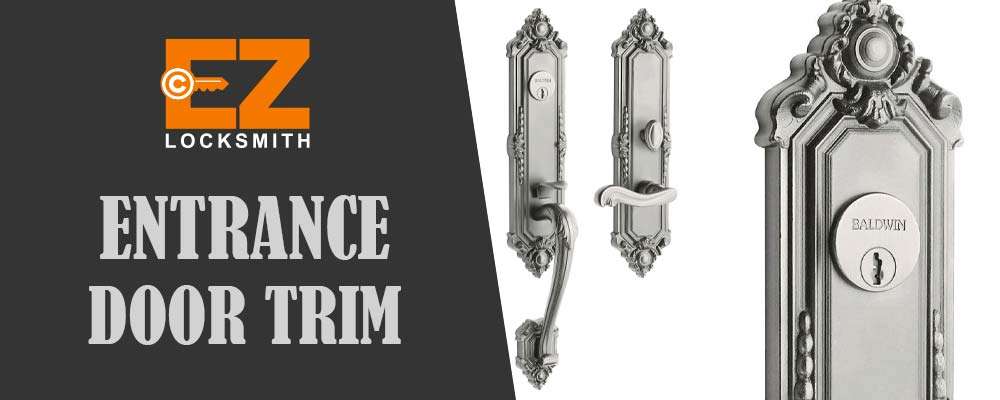 Let's talk about your entrance door trim.
If you like the unique look of a rich European oil-rubbed bronze, ribbons, and ornaments of a Victorian design, then Baldwin's Entrance Collection is for you.
For example, take the Fenwick Entrance Trim or the Versailles Entrance Trim. These marvelous trims will enhance the look of any door.
Some entrance door trims are available in Venetian Bronze, Polished Chrome, oil-rubbed bronze, and satin nickel finishes.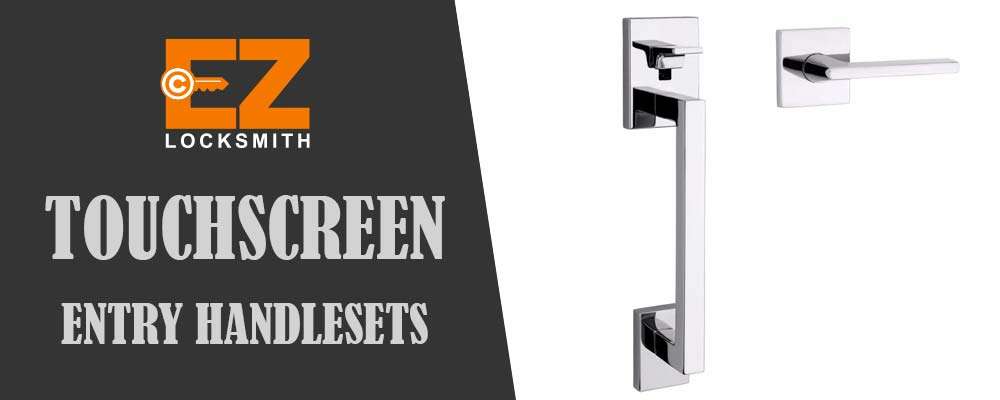 TouchScreen Entry Handlesets
This is 2022, and your door locks are still stuck in the '70s of the last century. Well, the latest in realistic-looking TouchScreen Dummy Handlesets will give your front door a very expensive look without breaking the bank.
Within minutes you can have an elegant-looking touch screen. This comes with the highest quality locks ever made.
And the outstanding feature of all! Is that you don't have to have your keys on you all the time. Baldwin's Keyless Entry Handlesets will open the door for you after confirming your password, of course.
Customer review
"I am a customer of Colorado EZ Locksmith, and I came across his services at an art gallery. I was so impressed by Baldwin's workmanship that I decided to replace all my locks with Baldwin Touchscreen locks.
The team arrives on time, and they were very friendly. Being a single female, the technicians made me feel safe, secure, and comfortable as they worked in my home. They were very knowledgeable about security systems as well as locksmithing in general." Sharon D. – Aurora, CO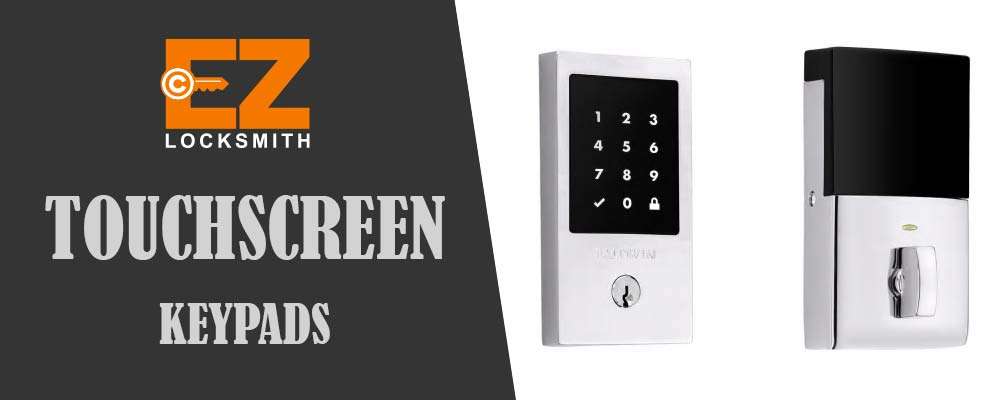 Baldwin's Keypad Entry
One-touch locking with a motorized deadbolt and 30 customizable access codes. Other features include a back-lit keypad for increased visibility as well as a C-Keyway, 5-pin cylinder.
Baldwin Hardware warrants that each Baldwin Estate product is free of mechanical defects as long as the original residential purchaser occupies the home where they installed it.
Baldwin finishes use advanced finishing technology (Physical Vapor Deposition) to create extremely resistant finishes that are highly unlikely ever to tarnish, flake, bubble, or peel after they have been installed.
The warranty is as follows: Lifetime PVD Finish™ Warranty: -For Baldwin warrants that the finish on all products with Lifetime or PVD coatings will be free of defects for a lifetime. Including: blistering, peeling, flaking, and corrosion under normal atmospheric conditions for a lifetime from the date of the first sale. This Baldwin's warranty does not cover damage caused by abuse, misuse, or improper care and cleaning, such as scratches in a finish due to overuse of abrasive cleaners.
Keypad Entry Installation – Sophia A – Lakewood, CO
"Niso from Colorado EZ Locksmith was a massive help for my keypad installation in Lakewood, CO. He did the job very quickly, and he took care of me. I'm glad I found him.
He got here on time, and he quickly finished the job, which made me think that I would have to wait a long time to get it done. But I did not have to wait at all!
He was very friendly and took care of me through the whole process. He even cleaned up after himself! My experience with Niso was tremendous, and I would recommend him to anyone who needs help with their keypad installation in Lakewood, CO."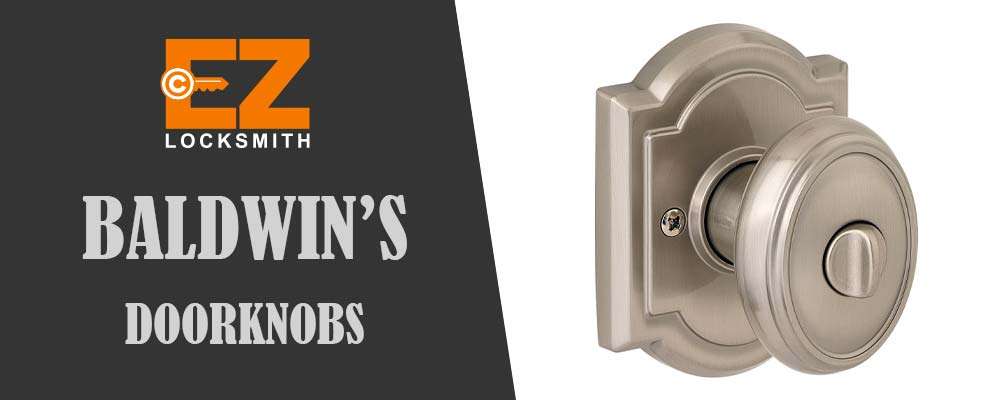 A new world of Doorknobs
Baldwin's pre-configured knob & lever sets and knobsets are the latest trend in locksmith hardware.
Passage, Privacy, and Dummy Functions are pre-set for simple ordering. Works with 1-3/8″ and 1-3/4″ thick doors. Backset latch (2-3/8″), Pre Bore Adaptor Included & full lip strike included for Passage & Privacy Functions Rose is Solid Brass.
Single Dummy function is pre-set for simple ordering, works with 1-3/8″ and 1-3/4″ thick doors, backset latch (2-3/8″) & full lip strike included.
Baldwin Doorknob customer testimonial
"Niso from Colorado EZ Locksmith in Denver, CO is a professional who will provide you with reliable and friendly service. I had some other locksmiths try to replace my Baldwin doorknob, but he did it for a cheaper price and provided me with the level of expertise that the others couldn't." Ronnie K.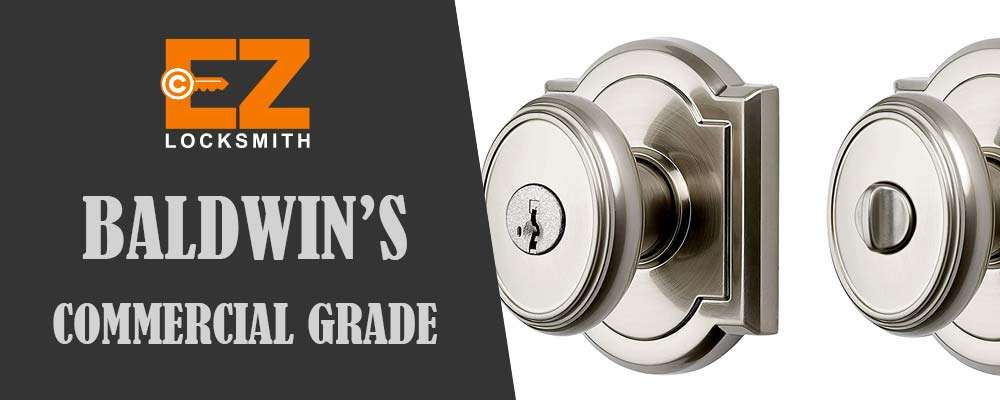 Baldwin's Commercial Locks
Baldwin's Commercial Locks are an excellent security choice for all businesses, including restaurants, hotels, and hospitals. With a variety to choose from, every company can secure their premises with locks made of the highest quality materials guaranteed to work in any weather conditions.
The Baldwin Estate Series is perfect for establishments looking for old-world charm in their day-to-day operations. The Estate series includes iridescent door hand inserts and exclusive custom styles so your business' design vision will be beautifully executed.
In addition to unparalleled quality, these locks operate smoothly and efficiently as they provide increased protection against theft or breakage while supplying a more secure building. The Estate Collection is the most popular choice for establishments because it has been tested, tried, and true by other businesses around the world so that you can anticipate a long usage of these locks in your establishment.
Looking for an affordable yet super professional alternative to commercial-grade door levers? Then Baldwin's Premium Levers offer excellent value and performance.
New Baldwin's Handleset Installation – Prince V. – Aurora, CO
Niso from Colorado EZ Locksmith did a great job installing my Baldwin's Boulder Sectional Entrance Set. Niso was efficient, professional, and polite. The handle set stain and brass style match perfectly with my hair-style salon's interior. 
I couldn't be any happier with EZ Locksmith's service and performance!
Bristol Sectional Privacy Set Installation in a fashion store – Cathy M. – Denver, CO
I am pleased with this purchase. The Bristol Sectional Entrance Set I bought from Colorado EZ Locksmith works excellent in our store. It's sturdy and reliable! Everybody is amazed by the ornaments on the handle set and highly recommended if you want to bring your business an exquisite look with a modern touch!
Baldwin's Keyless Entry – Customer testimonial – Drew F. Denver, CO
"I was looking for a local locksmith in Denver to install a new Baldwin keyless entry on my front door. Niso from Colorado EZ Locksmith did it in no time, and I got the code instantly! They are very affordable and professional. Great job!"
Universal Handleset Installation in a hotel – Jason C. – Lakewood, CO
"Great experience with EZ Locksmith. Niso was very professional and knowledgeable about his products. He helped me make my decision to go with the Baldwin handlesets for our hotel."
Baldwin's Doorknob installation on a new home – Amy K. – Thornton, CO
"We bought a new home, and I wanted to buy new doorknobs because the builder grade ones were not very nice. Colorado EZ Locksmith came over and installed Baldwin's door handle set that was exactly what we needed! Looks great!"
Baldwin Lever Installation – Sam W. – Englewood, CO
"Niso from Colorado EZ Locksmith did a great job installing my Lever Handle Set. Not only was the price very affordable, he even re-keyed it for me to match all my locks at no extra charge."
Lever Privacy Door Set Installation – Vicky K. – Denver, CO
"I'm very happy with Colorado EZ Locksmith. They are affordable and reliable. Niso was able to dispatch a locksmith in a short time, the technician came on time as scheduled. I got a great price for this Baldwin's lever and professional locksmith service!"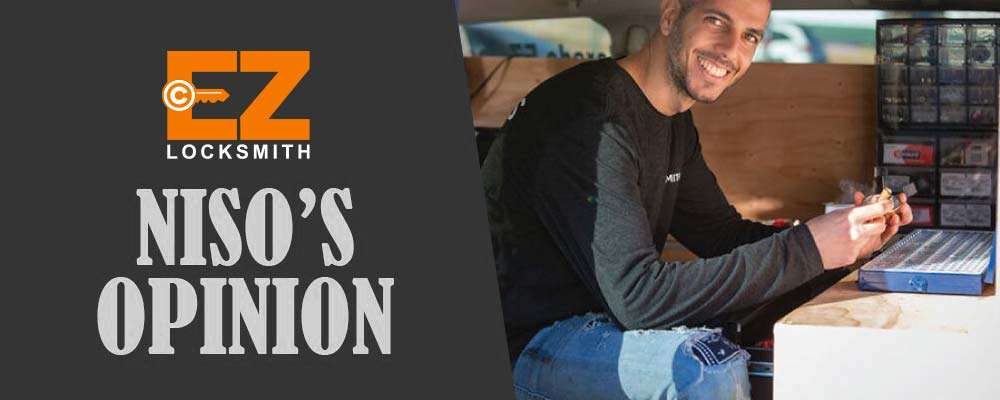 Conclusions
Baldwin Hardware is a well-known company that's been making locks for over 100 years. The Baldwin Estate Series has an old-world charm and can be found in establishments around the world because of its versatility, durability, and reliability. From keyless entry to door handlesets, Baldwin provides all your hardware needs with top-quality products at affordable prices. If you're looking for reliable security solutions or want to bring some style into your establishment by adding architectural door furniture from this century-old brand, then look no further than Baldwin Hardware today! For more information, call Colorado EZ Locksmith. We'll gladly help you find a Yale or any other perfect solution for your business or home.