Colorado EZ Locksmith provides great lock and key services to Denver International Airport (code: DEN). Car lockouts for people that lost their keys during the flight. We also provide excellent commercial locksmith services to the businesses around DIA.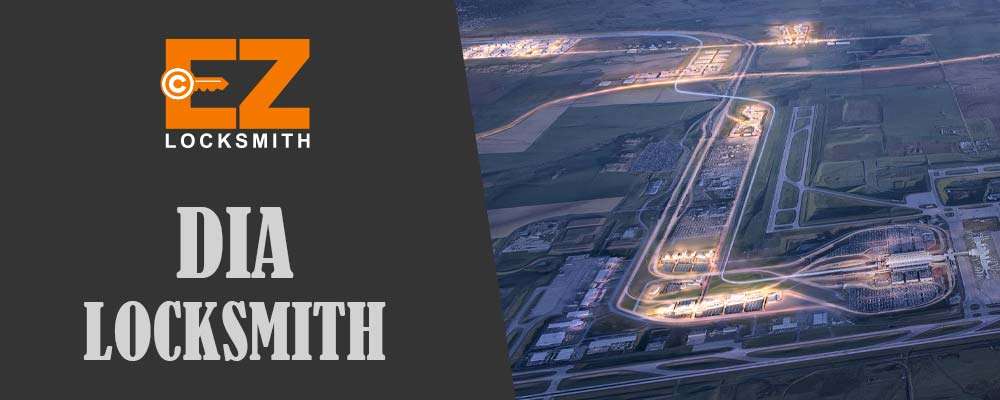 Denver Airport Locksmith Services
DIA's mission is to deliver the world's best airport customer experience. With more than 52 million passengers and visitors every year, DIA strives to provide world-class facilities, services, and wayfinding signage in a setting that is safe, comfortable, convenient, and easy to navigate. DIA handles more than 5,000 aircraft operations per day!
With so much traffic, people tend to lose their luggage or keys. EZ cannot help you with the bags, but we could definitely help you with your lost keys.
While you are at the Denver International Airport, check out all of the delicious local flavors offered by 170+ shops and restaurants there.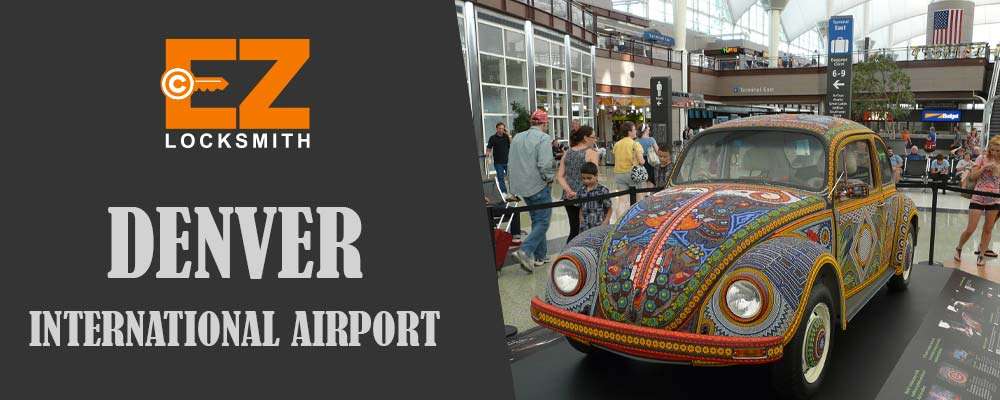 Best locksmith services at international airport
Automotive locksmith services

Vehicle locksmith service

Car key replacement

Car door locks

Keys locked in office or car

Install locks

Car keys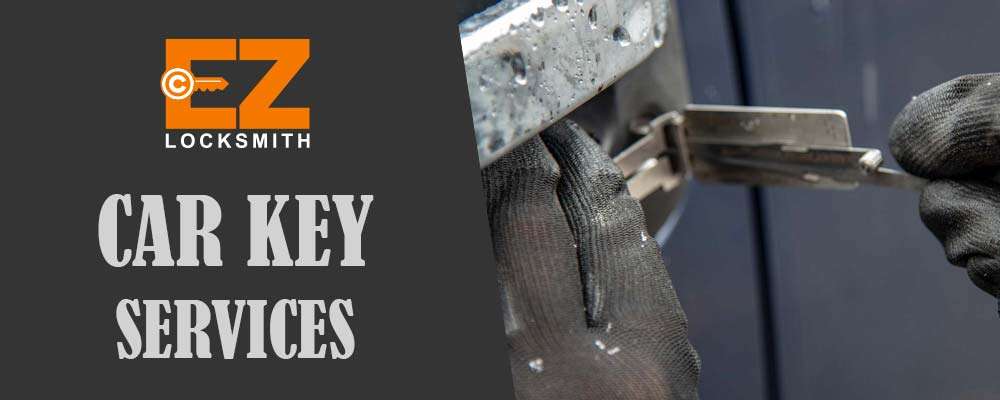 Why choose Colorado EZ Locksmith?
High-quality locksmith services

Professional Locksmiths

Expert locksmiths

Mobile service available

Reliable 24/7 Mobile locksmith
High-quality locksmith services, yet affordable.
EZ can help you with all your DIA locksmith needs. We offer high-quality services, but what makes us really special is our affordable prices.
EZ technicians are well trained and have the skills to handle a wide array of locksmith problems.
DIA Contact Info
The official address of DIA is 8500 Peña Blvd, Denver, CO 80249.
Phone number: +1 (303) 342-2000
Colorado EZ Locksmith is located in the heart of the Denver Metro Area, just minutes from DIA.
Car keys
Did you lose your car keys, or have you locked them inside your car? No need to worry! EZ Locksmith is here to help. We will get your keys out of the car, or we will make you new ones.
Locksmith in DIA for cars and business owners
At DIA, EZ Locksmith provides not just standard services but also specialized commercial locksmith services.
We are a big believer in customer satisfaction, so we make sure to get the best when it comes to: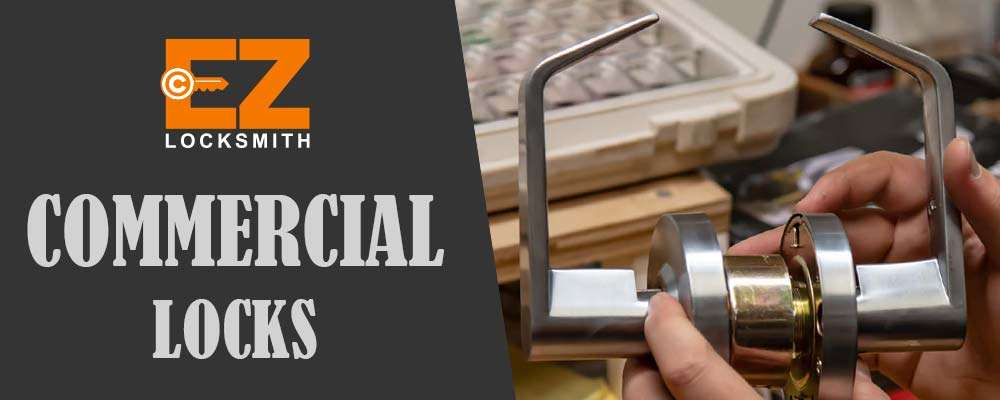 Commercial DIA businesses
EZ Locksmith is a full service locksmith company that provides products and services to residences, businesses, properties management companies, commercial clients, automotive owners, and government agencies.
Denver international airport locksmith
There are many business owners in DIA. Over 170 shops and restaurants in DIA offer a wide range of foods and drinks.
Are you a passenger?

Do you own a business in DIA?

Do you own a store, or are you renting a kiosk?

Does your store open 24/7?

Do you need a new security system?

Do you want to install a keyless entry system?
At EZ Locksmith, we do all lock and key services for affordable prices, along with great customer service.
DIA – The airport that never sleeps!
DIA (and its parking lots) is the third largest airport in the United States, and with its size comes a wide array of amenities.
DIA offers free Wi-Fi, power outlets every few feet, a DIA Diner, and even free tours of DIA. Read on this article to find out more about Denver International Airport.
Need ASAP lock and key services in Denver International Airport? Call EZ Denver International Airport Locksmith.
Transponder keys programming
Are you stuck in the airport and have no one to contact at 3 a.m. in order to come at this hour to unlock your car?
That's a big no-no. EZ Locksmith Denver can handle more complex situations than that.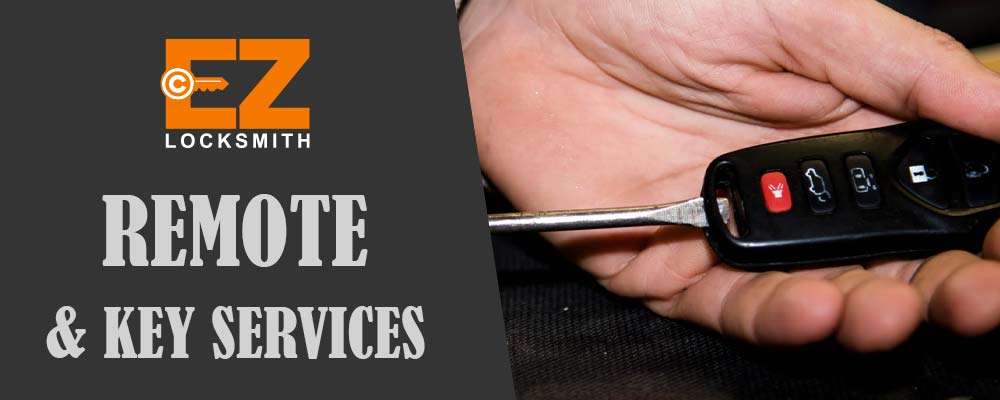 Full Vehicle Locksmith Service
Send us the issue via your touch phone, and an EZ locksmith will get you an affordable solution for you.
Do you need a certain lock? Check out our site, visit the residential, commercial pages, read posts & tips for you and your family security.
About our international airport locksmith services
No doubt. With EZ, you'll pay less for locksmith services. The Denver International Airport attracts many tourists from all over the world.
Many people use Uber and Lyft nowadays. You cannot use one of those if your car is parking at the Denver Airport parking lot.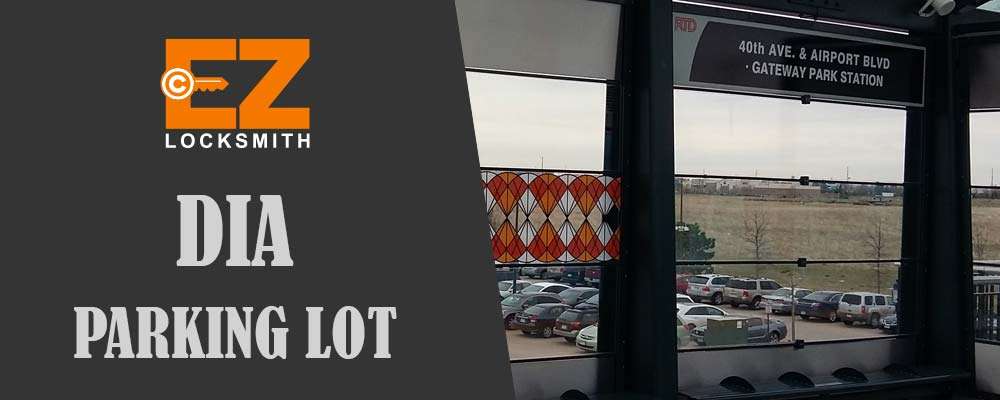 Parking at Denver International Airport
East and West Economy parking lot surface lots.

Covered parking in a garage and short-term lots, which are conveniently located just outside of Jeppesen Terminal.

While some parking lots will be closed, we'll still have plenty of parking available. The Denver airport's new parking system, which includes contactless payment and other enhanced features, will begin operations in late 2021.

The 61st and Peña lot is conveniently located on RTD's University of Colorado A Line.

For more information about our parking lots, visit our Parking Lots page.
A list of Denver Airport parking lots and prices
Up to 10 min walk
Garage | 24/7 | ($28 per day, $5 per hour)
Up to 10 min walk or 7 min bus
Economy | 24/7 | ($17 per day, $5 per hour)
Up to 10 min bus
Shuttle | 24/7 | ($8 per day, $2 per hour)
Up to five min walk
Short Term| 24/7 | ($144 per day, $6 per hour)
Take Uber or Lyft
61st and Peña | 24/7 | ($6 per day, $3 per twelve hours)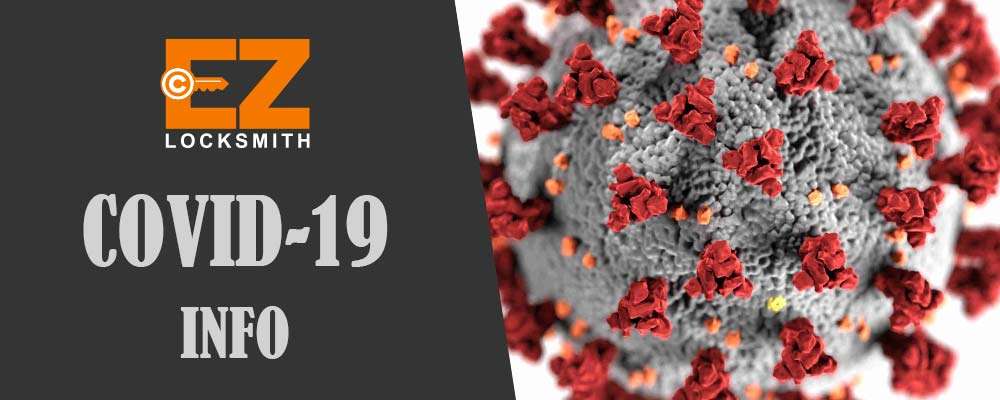 Covid-19 Notice
If you are unable to return to DIA as planned due to Covid-19 positive test or have questions about your vehicle safety that is currently parked in a DIA parking lot, send an email to park@flydenver.com with your contact information, vehicle make, model, color, and license

Denver International Airport offers a few parking options and is open 24 hours a day, seven days a week.
Can I sleep at Denver International Airport?
– Sleep in Denver airport is not allowed. No worry, some travelers have been reported that they were not allowed to stay overnight.
-The airport has a lot of art around it. You can find a permanent collection and temporary exhibitions throughout the facility.
Denver International Airport Shuttles
– DIA offers 24 hours parking options for travelers, with some parking only open for shuttle access as well.
Customer Service at Denver International Airport.
– DIA is also known for its great customer service. Most DIA staff are tolerant of sleepers who decide to sleep in the airport.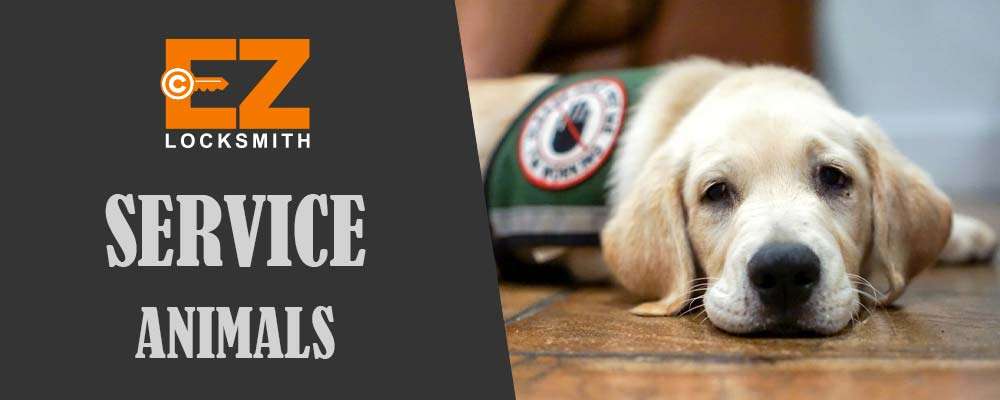 Pets in DIA
DIA is a dog-friendly airport that pets are permitted to accompany travelers into the terminal's public area.
Staff does require them to be on a leash at all times, and there may be additional restrictions on breed or size.
DIA Events for passengers and Denver Community
At DEN, the goal of 2022 is to host events that entertain passengers and give back to the community. We have strong relationships with organizations, artists, and performers.
There are many reasons to get out of the airport and breathe fresh air.
What our customers say about our service
Car key replacement at DIA – Mary S. D.
"My son missed his flight, so while he was waiting with the bags for the next flight, we decided to leave and get some lunch.
When we returned later in the day, my car was there, but my key was lost. So my son had to stay overnight, and I called EZ Locksmith.
The service was excellent! EZ were there in less than an hour and made me a new car key. Thank you, N! If you ever need DIA Locksmith, then no worry, Niso is the guy for you."
Denver international airport business lockout – Shawn L.
I have a store in DIA, inside the store I have a special door only for the staff. I went inside to get some stuff, and when I tried to open the door from the inside, it wouldn't open.
After a few tries, we all noticed that the key was broken. The lockout wasn't going to be easy because I'm aware it would have cost over $1000 to break this lock or replace it.
So I called EZ Locksmith, and they came in and fixed my lock. When I asked how much it would cost, the service was only $120! I couldn't believe it. Thank you, Niso. You've made my week brighter.
Access control in DIA
Many business owners in DIA already purchased Access Control gadgets. EZ has plenty of options when it comes to companies who sell and install Access control systems.
EZ also has a higher level of security, with TSA making the rounds and checking all bags that go on the plane. DIA is one of the safest airports in America!
The best locksmith services in Denver metro area
Get a locksmith service done by EZ Locksmith, and be sure that your experience will be managed by professional locksmiths who'll take care of all your lock and key needs.
Expect the best quality and prices when DIA Locksmith comes to your aid in order to solve any locksmith problem.
Lock brands we are working with:
Mobile service by Locksmith Denver
We know that staying in an airport can be frustrating, DIA is huge, and you don't want to walk all the way from one place to another.
You can send EZ Locksmith Denver your specific location with your phone, and we will get there in any weather conditions.
Our mobile locksmith service can do new car keys, unlock a car door, ignition repair for all vehicles.
Our team can deal with all DIA road side emergencies.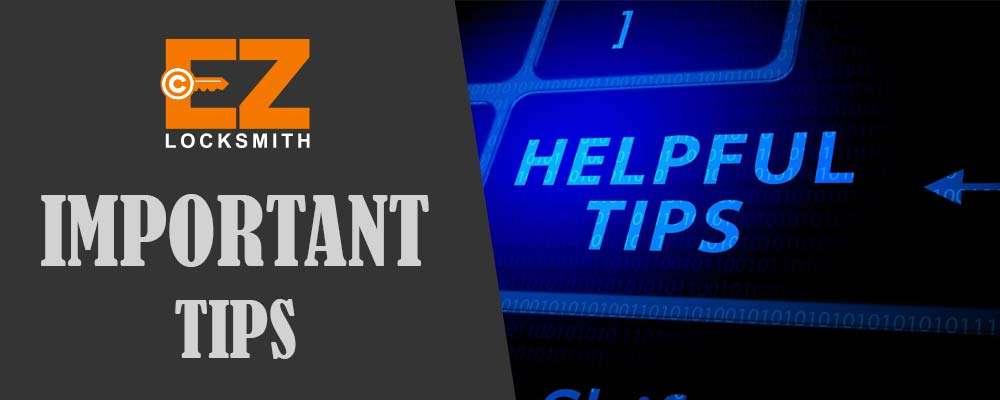 Conclusions + Tips + Miscellaneous
These tips are the most powerful ones:

Many EZ Locksmith customers say our locksmith service is helpful.

It happens only when they've realized that locksmith service isn't only a website.

If you see a too good to be true deal on another locksmith website, you better watch out.

Your car keys, locks, an old key, cars, family, security, life, and more. They are possibly at risk with an unknown locksmith.

If you've searched for "Locksmith Denver" when you need a car key replacement, beware that the unknown locksmith doesn't copy your car key.

Use your phone to track reviews but not only on Google. You may find them on Yelp or HomeAdvisor as well.

EZ will not exchange your lock for no reason.

Car key replacement DIA – D. V.
My car key broke during my flight, so I called EZ Locksmith, and it was fixed in less than 45 minutes.
Thanks, EZ Locksmith, for fixing my key quickly, I didn't let me wait long, and the price was great!
Do your keys locked in your car? 
Contact EZ on the website or via your smartphone. Our reliable team will be happy to come to your office, site, cars in order to give you the best Locksmith Denver car keys service.
Unlock residential or company door in Denver, CO. with ease – with EZ
Order our Mobile Locksmith Lab to arrive promptly to Denver Airport, and we will be more than happy to help you.