Are you an aspiring locksmith looking to get the best training possible? Choosing the right locksmith training program can help set you up for success in this career. With so many different options out there, it's important to do your research and find a program that fits your needs.
In this article, we'll discuss all of the factors you should consider when choosing a locksmith training program. We'll cover types of programs available, cost, duration and accreditation of programs. With all the information provided here, you can make an informed decision about which program is best for you.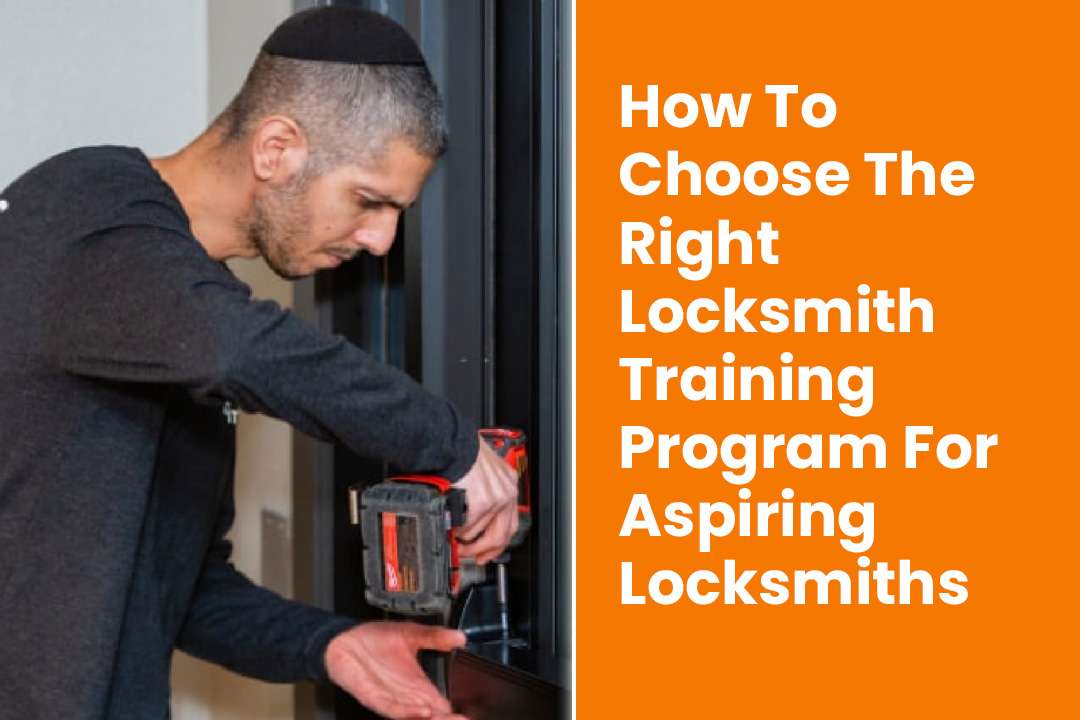 Types of Training Programs
With so many options out there, it can be tough to decide which training program is best for you. When considering the type of locksmith training program that fits your needs, consider what kind of hands-on experience and self-study materials are available.
A good locksmith training program should include both practical experience in a lab setting as well as theoretical knowledge. Most programs will provide some combination of classes, lectures, seminars, and workshops that cover the fundamentals of locksmithing such as lock installation and repairs, key duplication techniques, safe combination selection, and more. You may also find programs that offer online courses or self-study materials for those who prefer to learn at their own pace.
Aspiring locksmiths should make sure to research the curriculum offered by each training program before enrolling to ensure they receive all the necessary information needed for certification as a professional locksmith. Additionally, look into any additional resources provided by the school such as job placement assistance or internship opportunities.
Many schools have built relationships with local businesses that offer internships or apprenticeships for students once they complete their training program. This provides invaluable hands-on experience under an experienced professional which will help further hone your skill set once you become certified.
Having a good understanding of these types of programs can help aspiring locksmiths make an informed decision when selecting a quality education provider to pursue their career goals in this field. With knowledge about the various types of training programs available, prospective students can move forward confidently towards determining how much they'd like to invest in their future careers in locksmithing.
Also read: Common Myths About Locksmith
Cost of Training
The cost of locksmith training can vary greatly, with some courses costing up to $4,800 for a 3-month program. It's important to factor in any additional costs such as tools and materials before committing to a course.
Financial aid may be available depending on the school and your needs, so it's worth exploring this option if needed.
When considering the cost of training, it's important to keep in mind the job prospects that come with completing the program. Not only will you gain valuable experience and knowledge, but you can also expect an increase in earnings upon completion. Furthermore, many states require certification or licensing for locksmiths which could help open doors for new opportunities down the road.
Understanding how long it will take to complete your locksmith training is just as important as understanding the cost associated with it.
Duration of Training
Gaining a comprehensive understanding of the locksmithing profession takes time and dedication, so aspiring professionals should be mindful of the length of their chosen training course.
There is no one-size-fits-all approach to selecting the right program, but here are some things to consider when weighing your options:
Certification requirements –

 Many states require locksmiths to be certified or licensed before they can legally practice. Make sure that any training program you're considering meets these standards and will prepare you for any required certification exams.
Job marketability –

 Look into programs that offer job placement assistance or provide a list of potential employers upon graduation. Some schools also offer apprenticeships that can give you an advantage in the job market.
Duration –

 Be sure to ask about how long it takes to complete each class and what the total duration of the entire course is so you know if it's within your timeline.
A good training program should equip aspiring locksmiths with all the necessary skills to enter the field and be successful in their career.
Accreditation is another important factor that must be taken into account when choosing a locksmith training program as it ensures quality standards are being met by both students and instructors alike.
Accreditation of Training Programs
If you're looking for a comprehensive training program, make sure it's accredited to ensure quality instruction and the best chance of success. Accreditation is an important factor to consider when choosing a locksmith training program as it shows that the school meets minimum certification standards and has experience requirements in place.
Accredited schools will have undergone a rigorous review process by an independent third-party organization, such as the Associated Locksmiths of America (ALOA). This review ensures that the school is up-to-date with industry trends and meets certain educational standards. Additionally, many employers prefer to hire locksmiths who have been trained at accredited institutions.
Accreditation also indicates that a locksmith's credentials are valid and recognizable throughout the country. ALOA accreditation means that your training program has met national standards set by professional organizations like ALOA Security Professionals Association and National Safeman's Organization.
By attending an accredited institution, you can be assured you are receiving quality instruction designed to prepare you for success in your career. Plus, some states may even require licensing or certification if you plan on working independently as a locksmith after graduation.
Conclusion
Choosing the right locksmith training program can be daunting, but with the right information, you can make sure you're getting the best possible education and training available.
Consider the cost of tuition, length of coursework, and accreditation to ensure your time and money are well-spent.
With this knowledge in hand, you'll be fully prepared to pursue a successful career as a locksmith! And once you have that diploma in hand, you'll feel like an absolute genius for making such an informed decision.
Are you in need of a Car locksmith Denver? Our locksmiths provide professional solutions for all your locksmith needs. Contact us now for commercial locksmith services in Denver and secure your business.